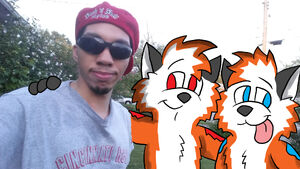 Jordann William "JW" Edwards (born January 22, 1996 in Cincinnati, Ohio) is an artist and writer, best known for creating The Dynamite Twins and Friends, and for being the architect of the ColorWorld Universe. As executive producer, he plays an important role in the series by contributing his own art work and advertising the show on Facebook and Tumblr.
He's also the co-creator of Bloody Cutlass, alongside Elizabeth Mogan.
Jordann is best known for his own series, The Dynamite Twins and Friends, set in the same universe as MacTaggart.
His favourite character in the SPCM series is Blackmask; his personal all-time favourite is Darkblade.
His other interests include collecting sports memorabilia, vehicles, train sets, and other media.
A general music lover, he and his parents have collections of vinyls and 8-tracks. Despite listening to hip hop and electronic dance music the most, his personal tastes are also towards some old-school funk, R&B, jazz, and country, with the occasional rockin' tuneage; he gets those tastes through his father and other relatives.
He considers himself a "mutt", as he embraces his multi-ethnic background - he has African, Native American (Cherokee), and Western European (French, Spanish, Irish, Scottish) ancestry.
He is the head of ColorWorld Productions, which he formed with Craig Black, Elizabeth Mogan, and others.
Ad blocker interference detected!
Wikia is a free-to-use site that makes money from advertising. We have a modified experience for viewers using ad blockers

Wikia is not accessible if you've made further modifications. Remove the custom ad blocker rule(s) and the page will load as expected.